Careers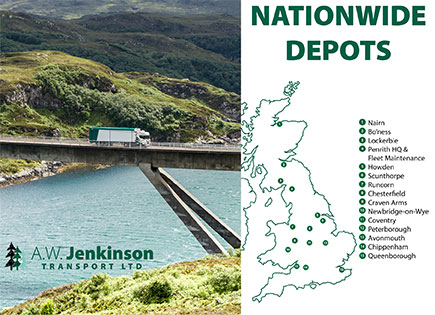 If you would like to apply speculatively for future positions within the business, please complete one of the application forms below.
We are able to keep your details on file for a maximum of six months.
As part of your speculative enquiry, the more information you are able to provide the greater your chance of being put forward for suitable positions.
Your application should therefore include:

Position/department which you are interested in
Depot applied for
Salary expectations
Where you are currently based
Full contact details including address and telephone number
All applications must be completed in your own handwriting and submitted by post.
General Application - (Download PDF)
LGV Driver Application (AWJ Transport Ltd) - (Download PDF)
Career Opportunities
Qualified LGV C+E (Class1) Drivers
Sales And Procurement of Arb Residue
Mobile Plant Operators
Cleaner
Machine Operative - Lockerbie
Administrator
Driver Trainer
Trainee Opportunities
Trainee Planner

| | |
| --- | --- |
| Locations: | Penrith |
| Reporting To: | Management |
| Salary: | TBC |
| Closing Date: | 31st August 2022 |
Please apply in writing, including your C.V., to the following address:
Tracey Taylor
HR, A. W. Jenkinson Transport Ltd.,
Clifton Moor, Clifton, Penrith, Cumbria.
CA10 2EY
Or alternatively by email to:
Formed in the mid-1960s, the A.W. Jenkinson group of companies has experienced year on year growth to the extent that it now handles over 3 million tonnes of roundwood, chips, sawdust, bark, green waste and other timber co-products across the UK annually. Services link virgin timber products and recycled materials with the demands of paper and board manufacturers, energy generation, agriculture, horticulture and amenity markets.
The growth of the companies has always been underpinned by a large in-house haulage and logistics operation which has consequently also experienced considerable annual expansion. The logistics operation is supported by a highly experienced team of drivers, planners and transport managers and a large, modern fleet of more than 750 vehicles covering the entire UK and Northern Europe.
Every one of the 1,500 or so movements each day is planned and controlled by A.W. Jenkinson's own highly experienced traffic team. In addition to the extensive bulk logistics operation, we operate a wide range of other units that meet a variety of specialist requirements.
We are now looking for Trainee Traffic Planners to join our team in Penrith. The aim of our programme is to help you maximise your skills and potential in an exciting and fast-moving environment. You will be supported by a friendly team and experienced mentors who will invest time and effort in helping you make the most out of this opportunity. You will be responsible for succeeding at work and at college, in an environment that will be challenging but also one that will enable you to enjoy your learning experience.
About the Programme …
This trainee programme is designed to develop you over 2 years to become a respected and successful Traffic Planner.
You will obtain a nationally recognised apprenticeship as Supply Chain Operator.
During your training you will support the Traffic Team, in an efficient and confidential way, and will learn to:
Manage collections and deliveries taking into account route planning, reducing empty loads, and cost;
Manage drivers and deal with day to day issues including drivers hours and health & safety;
Liaise with customers and drivers to provide high quality communication;
Understand customer contracts, rules, penalties etc;
Update computer systems with account information, access and egress issues, hold-ups, damage etc
What you need to apply…
You will have a minimum of 4 GCSE qualifications at standard grade C/grade 5 or above, including in Maths, and English. You will also need to be competent on Microsoft Word, including having some Microsoft Excel knowledge, as well as an interest in working in a transport and logistics environment.
You will be a driven, self-motivated and enthusiastic individual with a positive and can-do attitude, happy to work as part of a team and willing to learn and develop.
Key to success for this apprenticeship is to have the ability to balance time between studies and work to ensure success in both.
What you need to succeed…
Forward Thinking - Take personal ownership for effectively analysing problems and creating solutions with an emphasis on continuous improvement.
Teamwork - Develop and maintain sound working relationships between all departments to maximise the service we provide our customers
Communication - Demonstrate high standards of verbal and written communication
What we offer...
As an trainee of today you are an expert of tomorrow.
We have high expectations of our trainees and are rewarded by our competitive pay and benefits. Salaries are reviewed regularly throughout the programme and based on performance and qualifications gained.
Please forward your c.v. to Tracey Taylor, HR, A. W. Jenkinson Transport Ltd., Clifton Moor, Clifton, Penrith, CA10 2EY or by email to [email protected], by the 31st August.
A.W. Jenkinson Transport Ltd. is committed to being an equal opportunities employer.